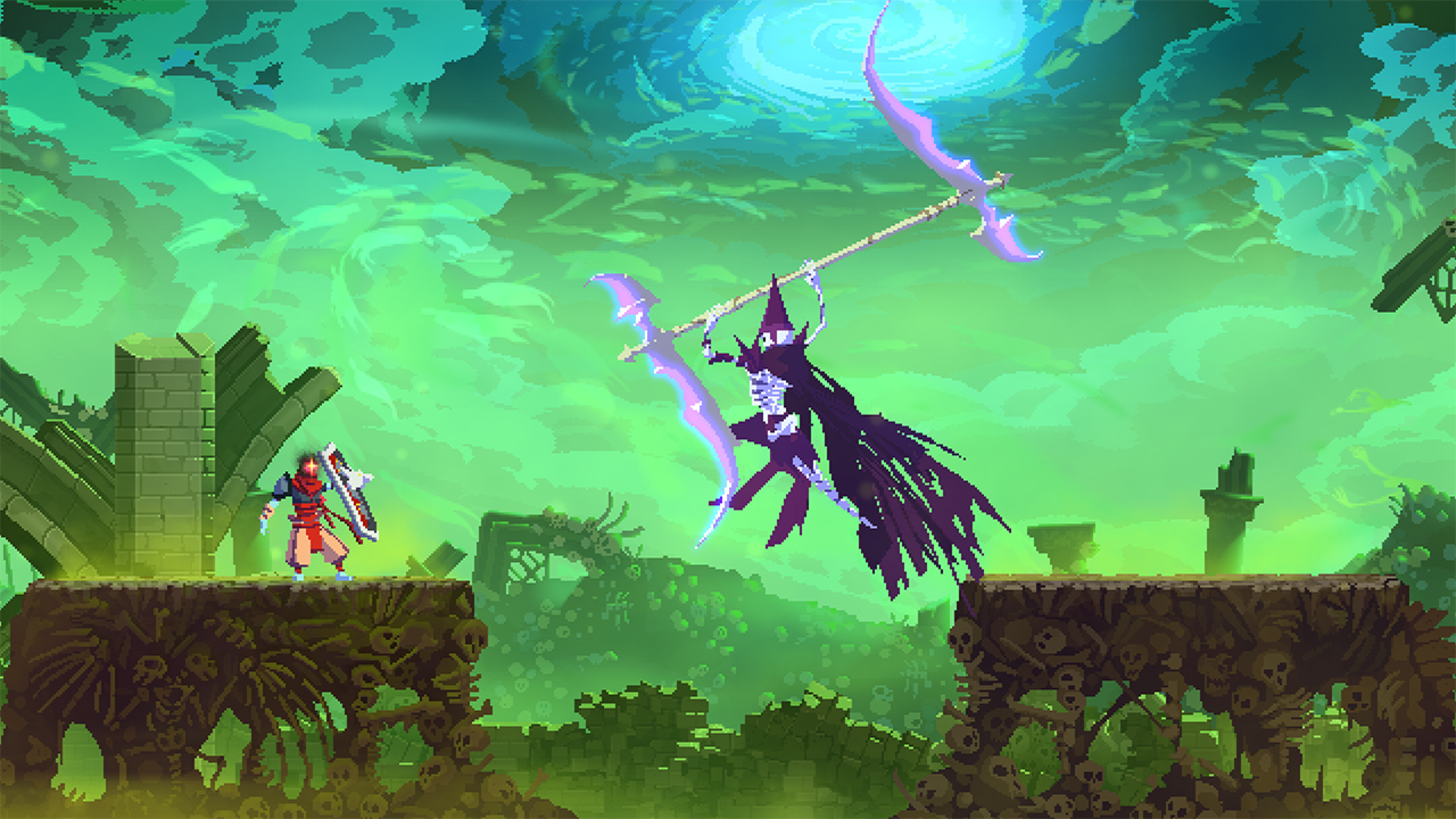 There are hordes of indie games that launch everyday, and as someone who wants to support independent developers, it's tough to pick which games are worth playing from a glance.
So, I've put together a list of indie games that piqued my interest. For the record, I have not played any of these, but these are the ones with the most interesting concepts or coolest trailers. Most of these are PC games, but some of them have also launched on other platforms.
Let's kick this thing off, shall we?
Dead Cells: Return to Castlevania – March 6
We're going to start with one that I'm most excited for: Dead Cells: Return to Castlevania (opens in new tab). This is going to be the most popular indie game on here, so don't get to used to it. But Dead Cells: Return to Castlevania is a huge deal.
This is Dead Cells' biggest DLC yet, including two biomes, 14 weapons, 20 outfits, three bosses and a new storyline. Famous characters like Richter Belmont and Alucard will aid you on your quest to vanquish Dracula.
If you're unfamiliar with Dead Cells itself, you're in for a 2D rogue-lite with souls-lite combat.
Daydream: Prologue – March 3
Like another title on this list, Daydream: Prologue (opens in new tab) is not a full game but the beginning of one, and it is 100% free.
This is the first act of Daydream: Forgotten Sorrow, which is a horror, puzzle, adventure game. You play as Griffin, a little boy who struggles to face his fears. And with his teddy bear companion Birly, you're going to dive into traumatic memories.
It sounds messed up, and great for therapy. The full game launches sometime in 2023.
Ogre Chambers DX – March 3
Ogre Chambers DX (opens in new tab) is a roguelike bullet hell shooter. And it's free! This is the best way to get masochists on your side.
It seems like a pretty compact arcade game with not much to it than killing off waves of monsters. There's a transforming arena where you can pile on random upgrades, and there's a total of 7 unlockable spaceships.
Did I mention free?
The Space-Eating Croc – March 4
I have huge respect for RPG Maker games, so The Space-Eating Croc (opens in new tab) was an easy add to this list, as it is a mystery adventure game influenced by classic horror RPG Maker games.
If you're into puzzle games with a tad bit of horror and a somewhat goofy premise, this might be right up your alley.
Apex Point – March 5
Apex Point (opens in new tab) is for the car enthusiasts out there. This game is all about highlighting Japanese car culture. It's an open world racing simulator that takes place in Japan and was created in Unity 3D.
Just from the trailers I've seen, it's incredibly detailed for an indie title. Keep in mind that Apex Point is an early access which means that it is unfinished and will lack content.
Dark Prospect – March 5
Dark Prospect (opens in new tab) isn't the prettiest game out there, but the concept seems like a lot of fun. Dark Prospect is an asymmetrical FPSvsRTS multiplayer game, which means that FPS players must survive and fight against a player or AI who summons, commands, upgrades monsters and casts spells from an RTS perspective.
FPS players need to gather resources and build defenses to prepare for the incoming onslaught. There are five different maps, custom game options, and is playable with up to 32 players. What it needs to survive is a community and some more longevity mechanics.
Outlanders – March 7
If you're looking for a super chill city builder in a colorful and cozy world, then I think Outlanders (opens in new tab) might be worth a try.
The gimmick here is that you can't control the characters directly. You can place buildings, manage resources and declare the number of work spots in each building, but then the Outlanders will decide who takes which job, which house they inhabit, and which building to build.
It's a neat concept, especially for someone who wants to dive into a cozy sandbox.
Goblins of Elderstone – March 8
Goblins of Elderstone (opens in new tab) has been in early access since Jan. 9, 2018, but just officially released on March 8. It is city-building game that revolves around building "gobly" houses, managing your resources, defending your goblins and growing your tribe to face other races and "even the gods!"
What drew me to this game specifically was its goofy low-poly artstyle and animations combined with upbeat music. If you're into city builders and colony sims, this is one to try out.
Ash of Gods: The Way Prologue – March 9
Ash of Gods: The Way Prologue (opens in new tab) is not a full game, but it is free. It's actually the first chapter in a story-driven tactical card game. Deck-building games isn't really my thing, but I like the artstyle here.
This game tells the story of a young warrior who must infiltrate a neighboring country and learn their fancy card game in order to prevent a war from breaking out. 
The official Ash of Gods: The Way game launches on April 27, 2023.
The Last Spell – March 9
I didn't know about The Last Spell (opens in new tab) before going on my hunt, but this is now at the top of my list. I can't help but be sucked in by magic and heavy metal. The Last Spell is a tactical turn-based RPG with rogue-lite mechanics in which you have to defend a city against hordes of enemies.
What really draws me into it is the dark fantasy artstyle that it takes on, which is very reminiscent of Beserk or Dark Souls. There are over 25 tracks of "thunderous synths-driven progressive metal" akk composed by Rémi – The Algorithm – Gallégo. 
Sign me up.